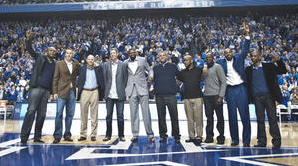 LEXINGTON – After Kentucky won the 1996 national championship, the UK players did not get title rings from the university because the NCAA thought the rings were too expensive.
Other Kentucky championship teams after that, though, got rings and Wednesday night the 1996 national champions got their UK rings during a halftime ceremony of Kentucky's win over Mississippi State.
"This means a lot to all of us," said Wayne Turner, a backup guard in 1996 who also was UK's starting point guard on the 1998 national title team. "We appreciate coach (John) Calipari taking care of this for us."
Most of the players on the team were present and three — Nazr Mohammed, Allen Edwards and Mark Pope — who couldn't be had messages played on the video boards at Rupp Arena. However, players such as Tony Delk, Walter McCarty, Anthony Epps, Antoine Walker and Jeff Sheppard were all there.
Calipari was coaching at Massachusetts when UK won the 1996 national championship. His team beat UK¿during the regular season but lost to the Wildcats in the Final Four.
"Let me just tell you the best thing, they were terrific players. They sacrificed more than any team I'd ever seen. When you talk about guys getting 20 minutes who deserved 40 minutes and accepting it, it was incredible," Calipari said. "The other side of it is you're talking about a very intelligent group of young people. Now you're seeing that as they grow and they're now men, you're looking at them and what they're able to do, you're talking about a group that was really intelligent that sacrificed for each other, that never changed who they are.
"Any time I see them, they're always kind to us and this program. I'm just happy that the university stepped up and did what they did. I think it shows a lot that we do reach back. If there's anything that we can make right, we do."
Calipari joked that he was "mad" that the 1996 championship rings were nicer than the ones the Cats received after winning the championship last season.
"We let them design their own rings is what we did. What design do you want? They came up with that design. When I looked at it, I said, 'That's nicer than our ring, that makes me mad.' But it's nice," Calipari said. "Again, I think they're really proud. They tried to get back (for the ceremony). The ones that couldn't get back were playing or coaching tonight, couldn't get away.
"It's interesting, these guys have stayed together, stayed in touch. That's what this is all about. It's fun when our players that I've coached here are the same way. They stay in touch with each other. They have dinner when they're in town together, when they're playing in the NBA, all that other stuff. It's good."
Current Louisville coach Rick Pitino was UK's coach in 1996. Calipari was asked after the game if the championship rings were for players or if the coaches would also get on.
"I don't know what they did with that. But I do know (player) Scott Padgett, who takes every free lunch he can get, called and said, 'Am I getting a ring?'"
Padgett was academically ineligible the second semester and returned home to Louisville. He came back to UK the next season and was a starter on the 1998 national title team.
"I know Scott didn't get one. I don't know if they made them for the coaches or not. They may have," Calipari said.
Mays update: Calipari said that senior guard Julius Mays should have no lingering effects from taking an elbow to the head from a teammate during Wednesday's win.
"I think he had four stitches," Calipari said.
Mays was injured about midway of the second half. He went straight to the locker room and did not return to the court. He was not available to the media after the game.